While the Bollywood star's military green outfit was panned by critics, her stylist defends her.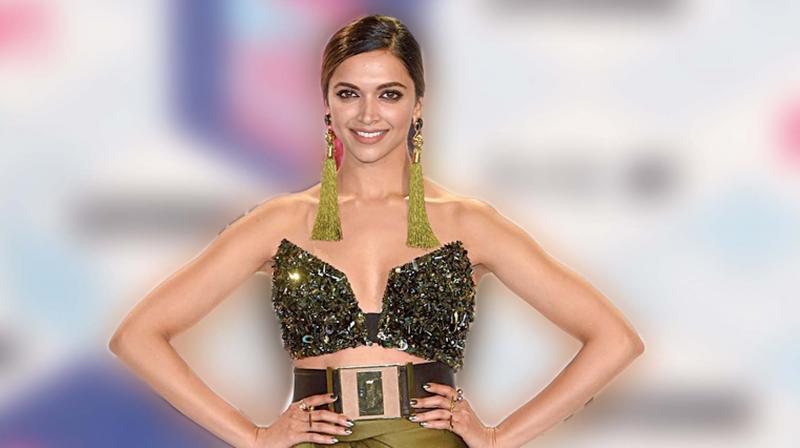 What happens when Monisha Jaising and Shaleena Nathani team up to create something special for this beauty? Absolute magic!! Amid a factory's worth of military green metallic 3-D embellishments on a heavy duty bomber jacket, a fitted bodice and a trailing thigh high slit skirt, Deepika Padukone turned heads at the MTV EMAs. This is Deepika Padukone' stylist, Shaleena Nathani's instagram post.
Sadly, the military green outfit drew flak instead of flattery on the EMA red carpet. Prior to this prestigious event, an elated Monisha had posted this message, "Military green is a functional and strong colour. It has a tough, almost androgynous appeal for all of those women warriors out there! Deepika is unstoppable, fit and fierce; making a perfect muse for my Artemisia Gown. I'm thrilled to collaboratively envision with Shaleena Nathani, and create this very special piece for Deepika Padukone for the EMAs"
But The Daily Mail panned the look, calling Deepika a Bollywood Blunder. Shaleena however is dismissive of the nasty criticism, "They are the only ones who said something negative. We were on the best dressed list of all the top fashion magazines. Personally, I am very critical about my work and if the look didn't appeal to me, I would not have gone for it You have to be sure about what you do, believe in yourself, that's all that matters. As a stylist you can't please everyone. We believed this look was appropriate for the event. Monisha and I jointly collaborated on this outfit. This was the first time, I was attempting designing and Deepika was very happy with the look," says the young Mumbai-based stylist, who incidentally did her 11th and 12th at the Mallya Aditi School in Bengaluru.
"I lived on Millers Road and moved here after finishing class 10 in Mumbai. Initially, I was miserable till I made some good friends. I keep visiting Bengaluru as I am part of Deepika's fashion line. But it's always a day trip. Bengaluru has changed a lot in the past 12 years, but it has a charm of its own," she adds.
Like most stylists, Shaleena always had a passion for fashion and started interning at an export house at 16. "It was my dad's friends and I would go there two to three times a week. Soon, I got an offer to intern with Anahita Shroff at a fashion magazine. One thing led to another and before I know it, I was designing for the stars. In fact I used to know Deepika from back then. We kept bumping into each other occasionally," she confesses.
Shaleena generously attributes all her learning to Anahita and her director husband Homi Adjania. "They are an amazing couple. Anahita taught me to let my work speak for itself and eventually good work doesn't go unrecognised," adds the stylist who has clocked nine years in the industry. "I have worked very hard to get where I have."
Today Shaleena is considered one of the top stylists in India and stars like Deepika Padukone and Alia Bhatt trust her design instincts completely.
"Deepika and I go a long way back. I did Love Aaj Kal with her and she is absolutely great to work with. She has beautiful skin, hair, great height and is just gorgeous. She is very easy to work with. Even if she is unsure about a look, she will still go ahead and try it. Normally, we do keep different options for high profile events, but when Deepika tried on the Monisha outfit, it just felt perfect as it was not a dress or a gown. We unanimously decided she would wear this and we are all very happy with the end result," says Shaleena.
Source by deccanchronicle….