Stephen Curry and Kevin Durant combined for 65 points to give the Golden State Warriors their fifth consecutive victory.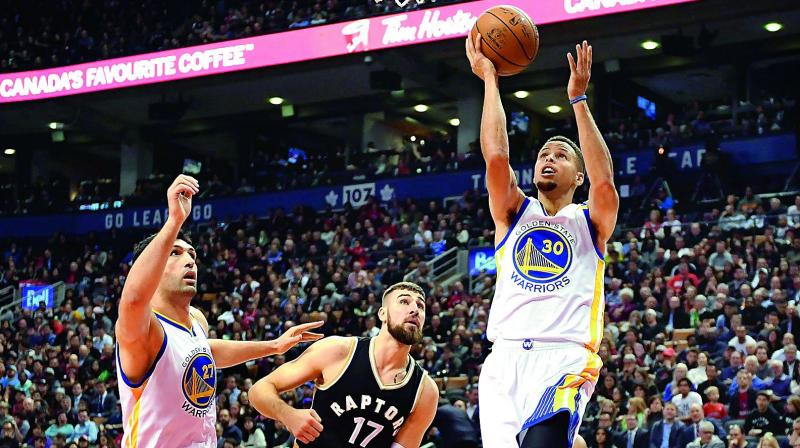 Durant added nine rebounds and six assists while Klay Thompson finished with 14 points. Draymond Green (11 points) and Andre Iguodala (10) also made double digits as the Warriors improved to 9-2. The Warriors were made to sweat for victory however, seeing an 18-point fourth quarter lead reduced to just six points before they held on to win. While the Warriors celebrated a hard-earned win, Cleveland were given a reminder of how difficult life can be without LeBron James after they went down 103-93 to the Indiana Pacers in Indianapolis.
James was rested for the game and the Pacers took full advantage to become only the second team to beat the reigning NBA Finals Champions this season. Paul George had 21 points and 11 rebounds while Jeff Teague added 20 for the Pacers. Kevin Love topscored for the Cavaliers with 27 points while Kyrie Irving added 24. The individual performance of the night arguably belonged to Kristaps Porzingis of the New York Knicks, who produced a career-best 35 points in his team's win over the Detroit Pistons. The Knicks' heavy-hitters also weighed in, with Carmelo Anthony scoring 22 points, Derrick Rose adding 16 and Joakim Noah snaffling 15 rebounds.
Westbrook shines in Thunder win:
Russell Westbrook produced an incredible one-handed slam dunk to put the seal on a 105-103 victory for the Oklahoma City Thunder against the Houston Rockets. Westbrook electrified the Chesapeake Energy Arena with his stunning late effort with 5.5 seconds remaining, the final act of a 30-point personal haul. Westbrook's final tally came from 9-of-20 shooting from the field. He also had nine assists and seven rebounds.
He was backed by Thunder guard Victor Oladipo who finished with 29 points and 10 rebounds, although no other Oklahoma City player cracked double figures. The win helped the Thunder snap a four-game losing streak and improve to 7-5. The Rockets meanwhile spread points evenly throughout the team, with seven players each scoring at least 10 points.
Source by deccanchronicle…